State of International EM
Open Access
Rebuilding the health care system in Afghanistan: an overview of primary care and emergency services
International Journal of Emergency Medicine
2009
2:106
Received: 14 December 2008
Accepted: 20 April 2009
Published: 5 June 2009
Abstract
Developing nations have many challenges to the growth of emergency medical systems. This development in Afghanistan is also complicated by many factors that plague post-conflict countries including an unstable political system, poor economy, poor baseline health indices, and ongoing violence. Progress has been made in Afghanistan with the implementation of the Basic Package of Health Service (BPHS) by the Ministry of Public Health in an effort to provide healthcare that would have the most cost-effective impact on common health problems. Trauma and trauma-related disability were both identified as priorities under the BPHS, and efforts have begun to address these problems. Most of the emergency care delivered in Afghanistan is provided by the military sector and non-governmental organizations. Security, lack of infrastructure, economic hardship, difficult access to healthcare facilities, poor healthcare facility conditions, and lack of trained healthcare providers, especially women, are all problems that need to be addressed. The long-term goal of quality healthcare for all Afghan citizens will only be met by a combination of specific goal-oriented projects, foreign aid, domestic responsibility, and time.
Keywords
Emergency medical servicesAfghanistanEmergency medicineHealth care
Introduction
Afghanistan faces a significant challenge to creating a functional medical system in a post-conflict setting (although Afghanistan may be considered an "intra"-conflict setting). A low-income country recovering from decades of strife, the health care system has been in disarray for many years. Rebuilding the health care system in Afghanistan is currently being undertaken by a number of groups, including the Afghan government, several nongovernmental organizations (NGOs), and the US government. While some progress has been made, many hurdles remain. This article reviews the state of health care in Afghanistan, progress that has been made so far, and the challenges that lie ahead as efforts to improve the country's health care system continue.
Background
Afghanistan borders Pakistan, Iran, China, and the Central Asian Republics of Turkmenistan, Uzbekistan, and Tajikistan (Fig.
1
) [
1
]. Following the conclusion of the 10-year invasion and war with the Soviet Union, which lasted from 1979 to 1989, Western interest and support faded. Internal factions fighting for control destroyed much of Afghanistan's infrastructure, including what limited health care facilities existed. An ineffective government under the Taliban regime also contributed to an ineffective health care system [
2
]. Since the Taliban were deposed in 2001 by the US invasion, health care delivery has been mainly through NGOs.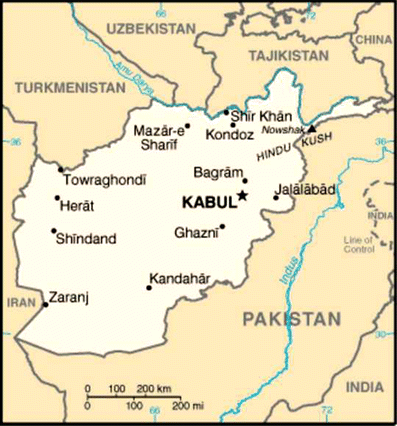 Afghanistan has some of the worst health indices in the world (Table
1
). Afghanistan ranked 173 out of 178 in the United Nations Human Development Index in 2004 [
3
]. Many infectious diseases such as acute respiratory infections, diarrheal diseases, measles, and malaria contribute to the burden of disease. Malnutrition, physical trauma, psychological trauma, and human rights abuses are also significant problems in the country [
4
,
5
].
Table 1
Health indices in Afghanistan
| | 2000 | 2006 |
| --- | --- | --- |
| Maternal mortality (per 100,000 live births) | | 1800 |
| Infant mortality (per 1,000 live births) | 165 | 165 |
| Under age 5 mortality (per 1,000 live births) | 257 | 257 |
| Life expectancy | 41 years | 42 years |
| Women with antenatal care | 4.6% | 32.2% |
| Skilled attendant delivery | 6% | 18.9% |
Since 2001, Afghanistan's health status has improved slowly, but much still needs to be done [6]. Emergency medicine in Afghanistan has not been developed or recognized as a specialty. Outside US military and NATO hospitals, reliable emergency services are not available for the public [7]. Very poor roads and lack of vehicles make ambulance access difficult for civilians.
Steps taken thus far to rebuild the health care system in Afghanistan
The Afghan National Security Forces (ANSF), comprised of the Afghan National Army (ANA) and the Afghan National Police (ANP), provide some health care, much of which is tertiary care; however, continued international support for the ANSF is crucial for its maintenance. Most of the tertiary services provided by the ANSF are in Kabul, with regional hospitals in Kandahar, Gardez, Mazar-e Sharif, and Herat. Currently 82% of the entire population lives in districts where primary care services are provided by NGOs under contracts with the Ministry of Public Health of Afghanistan or through grants [8]. Much money and effort has been put into establishing tertiary care hospitals, but a coordinated health care infrastructure has not yet been developed in this country [9]. Consequently, many are still living without access to primary health care [10]. An estimated 70% of medical programs in the country have been implemented by aid organizations [11]. Although these organizations are somewhat successful, access to health care remains a problem [8]. There is a major shortage of a health care workforce in Afghanistan. World Health Organization data show that there are only 6,000 physicians and 14,000 nurses for a population of 28 million people [12].
Basic Package of Health Services
In March 2002, the Afghan Ministry of Public Health developed the Basic Package of Health Services (BPHS) as a guide for the health services that the Afghan government would commit to provide for all Afghan citizens (Table
2
). Services were identified that would have the greatest impact on major health problems, be achievable given the limitations in infrastructure, be cost effective, and give equal access to health care in both rural and urban areas. Focus areas included maternal and newborn health, child health and immunizations, nutrition, communicable diseases, mental health, disability, and pharmaceutical supply [
13
]. The cost of delivering these BPHS was difficult to determine as health care was and still is provided by various groups, including the Afghan government, donors, and NGOs. Initial WHO estimates placed the cost at around US $40 per person to start a rebuilding program in Afghanistan [
14
]. After careful consideration of the BPHS, several NGOs later estimated the cost of providing these services to 80% of the population at US $4.30–$5.12 per capita [
15
]. Six years ago only 9% of Afghanistan's population of 28 million people had basic health coverage. Today nearly 85% of the population has access (within a 2-h walk) to basic health care. The goal for 2010 is 90% [
16
].
Table 2
 Basic Package of Health Services
Focus areas
Maternal and newborn health
Child health and immunizations
Nutrition
Communicable diseases
Mental health
Disability
Pharmaceutical supply
Health care delivery
Since the defeat of the Taliban in 2001, medical services in Afghanistan have been provided mostly by NGOs contracted through the Ministry of Public Health. Recently, the ANSF have been increasingly involved in providing health care in Afghanistan with the guidance of the US military. Emergency medicine is not yet a recognized or developed specialty in Afghanistan, but improving emergency care systems in the country will most likely improve health outcomes [13]. Full service emergency departments (EDs) exist for US military personnel at Bagram and other NATO military hospitals. While EDs do exist at some district hospitals and community health centers throughout the country, they are staffed by general practitioners with little or no emergency care training. Local emergency department administrators are not trained to manage EDs. This can be a problem for improving day-to-day operations of the departments.
Despite these challenges, some progress has been made in rebuilding the Afghan medical system according to the Center for Disaster and Humanitarian Assistance Medicine, particularly in emergency medicine. Much of this progress has been made in the military sector. Over 2,000 ANA combat medics have been trained in a standardized course adapted from US Army training focusing on combat casualty care. Over 700 ambulance vehicles have been purchased for ANSF use, but whether medics are properly trained to operate and use these vehicles and the appropriate distribution of them remains to be seen. Kabul Medical University has reduced its class sizes to manageable numbers, updated its nursing and medical school curricula, improved technology in teaching laboratories, and developed good relationships with the ANA and Ministry of Public Health. Graduate training programs in various fields exist, but specific training for emergency physicians is still lacking. Currently the plans for emergency services in Afghanistan are limited to the military sector. The focus on civilian health care is on primary care services, but as these improve, the long-term goal is to advance emergency care in the civilian sector as well.
Challenges to the development of health care systems in Afghanistan
There are many barriers to creating an accessible, effective, and sustainable health care system in Afghanistan. The main challenges of rebuilding Afghanistan's health care system include a lack of security, lack of infrastructure, economic hardship, poor coordination among government and health care providers, difficult access to health care facilities, unsuitable hospital conditions, and few trained health care workers, especially women.
The future of health care in Afghanistan
The challenges of establishing a functional health care system in Afghanistan include those of a developing nation, post-conflict nation, and a combat zone. The long-term goal of quality health care for all citizens will only be met by a combination of specific goal-oriented projects, foreign aid, and domestic responsibility. Health care in Afghanistan is improving as evidenced by improved access to care, enhanced quality of patient care, and more knowledgeable health care workers in rural areas. These improvements show the effects of streamlined cooperation between the Afghan military, civilian government, and NGOs. Unfortunately, the country's health care system still needs significant improvement before it meets basic and higher-level health care needs. The focus on primary care is appropriate; primary care is the first line of defense and yields large dividends.
Currently, the future of the US military's humanitarian role in the continued rebuilding of medical systems in Afghanistan is uncertain as both the local military leadership in Afghanistan and the administration of the USA is in transition. While it is likely that the military will continue to be the driving force for this project, future plans are unclear at this time. President Obama is calling for a greater military presence in Afghanistan, making the future of humanitarian assistance in that country difficult to predict. The emergency training of the military should proliferate throughout the civilian health care systems. Civilian ambulance programs should be established in urban areas to begin emergency care. The WHO Essential Trauma Care Project can be used as a model to teach first responders with minimal training how to perform simple, inexpensive, and life-saving maneuvers such as airway management and hemorrhage control. Hospitals should be adequately stocked and staffed to ensure a patient with an emergency can be treated. Once emergency departments are properly staffed and stocked, more extensive prehospital training can be developed. A tertiary care system for the sickest patients should be established. With time, emergency medicine will develop to meet the specific needs of the people of Afghanistan. All of these future goals will require the continued involvement of foreign aid in Afghanistan as well as aggressive domestic economic development. The health care situation in Afghanistan today is dire, but improving. Time and commitment will ensure a brighter, healthier future for the nation of Afghanistan and its people.
Declarations
Acknowledgment
The authors would like to thank C. James Holliman, M.D. for his help providing background information on the state of emergency medicine in Afghanistan and final review of this paper.
Conflicts of interest
None.
Authors' Affiliations
(1)
Department of Emergency Medicine, University of Pittsburgh, Pittsburgh, USA
(2)
Departments of Emergency Medicine and Internal Medicine, Allegheny General Hospital, Pittsburgh, USA
(3)
Department of Infectious Disease, University of Pittsburgh, Pittsburgh, USA
(4)
Department of Infectious Diseases and Microbiology, Graduate School of Public Health, University of Pittsburgh, Pittsburgh, USA
Copyright
© Springer-Verlag London Ltd 2009